The Methodology Essentials Premier Course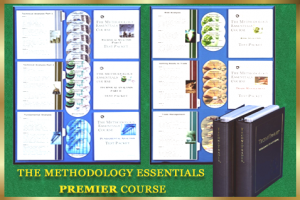 The Methodology Essentials Premier Course is for traders with more than 5 years of market experience. If you have some experience but are still not consistently successful the Premier Edition is for you.
How our course will help you: We teach what is missing in your education. You already know how to trade, but you need to learn more than a few strategies. You need a complete trading process for trading stocks or options.
Our ME10 Premier Trading Course was developed specifically for experienced retail traders, technical traders, and semi-professionals who need a more complete education than beginners need. It is also ideal for Financial Planners, Financial Advisors, Fund Managers who need to learn Relational, Technical & Risk Analysis.
Have you been trading for more than 2 years and still getting whipsawed out of your trades?
Whipsaw trades are caused by either HFT action triggering after you enter the stock or Dark Pool quiet accumulation or quiet distribution zones that you are accidentally trading against.
This is more common for retail traders nowadays than ever before. The ME10 Premier Stock Trading Course is designed to fill in the holes of the education that most traders have, even if they have been trading for 20+ years.
Are you struggling with entries and exits, losing money either at the entry point or losing profits as you close a position?
Most traders have learned strategies, and this leaves them vulnerable at entries and exits due to market conditions. There are 6 primary market conditions in the modern automated stock market and each one affects what candlesticks are most reliable, how support and resistance will behave, and how prices will move or not move.
It is important to learn the new Western Candlestick Patterns to find optimal entries and to plan the exit with the highest profit potential.
Do you often find yourself on the wrong side of the trade OR maybe your trades do not run with the momentum you expected?
Too much of the time, traders rely on outdated indicators or candlestick patterns and quickly find themselves in a losing trade. Our ME10 Premier Course teaches the new Western Candlesticks, New Leading Hybrid Indicators, and Relational Analysis, as well as technical analysis and risk analysis.


---
Start growing as a trader today. Contact us to enroll in TechniTrader's Stock Trading Training for Experienced Traders, the ME10 Premier Course.
Call: (888) 846-5577